AGM 2020
Thank you to everyone who made our Group's Annual General Meeting on the 23 September. We will be sending out the minutes soon.
Treasurer role description,
Nomination form London Area Group 2020
Background
We represent the interests of London's historic environment, and those who study and care for it. We have a deep understanding of London's historic environment, and the nature of heritage in this area.
The role of the CIfA London Group is
to make CIfA's services relevant to London-based members
to act as a focus for CIfA members interested in, or working in, London
to promote London archaeology positively within the structure of our profession
to ensure that the needs of London's archaeology are fully integrated into CIfA activities
to advise Council and staff in the provision of direct support for London archaeologists' needs
to work with other London-based groups and publications for the greater benefit of all stakeholders
Benefits
newsletter
events – seminars, meetings and workshops on a variety of relevant topics, at a variety of venues
training – short courses focusing on the complexities of urban archaeology
website
Our Constitution
London Area Group Constitution (pdf)
Join the Group
Membership is free to CIfA members.Non-members will need to pay an annual £10 fee
Email: groups@archaeologists.net
Twitter: N/A
Facebook: N/A
LinkedIn: N/A
Instagram: N/A
Blog: N/A
Committee
Duncan Hawkins (Chair)
Dave Bolton (Secretary)
Catherine Cavanagh (Treasurer)
Victoria Donnelly
Guy Hunt
Sophie Jackson
Chris Mayo
Christina Reade
Michael Tierney
Forthcoming events
For all upcoming events, please visit our event calendar.
EARN CPD POINTS
C 'Peasy' D SERIES – London Archaeologists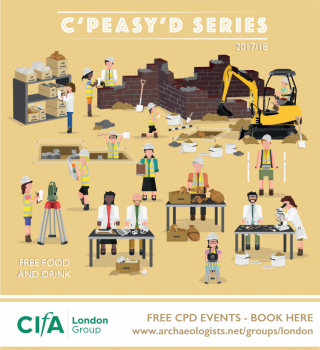 What is the 'C Peasy D' Series?: Enjoy half an hour of informative and educational presentations with half an hour to discuss the topic and put your questions to industry leading experts.
Why attend:
• Learn about topics that directly influence archaeology in London but that fall outside of the usual training regimes for most units. Get informed about how and why things are done the way they are.
• Get an official CIfA certificate for 1 hour of CPD.
• Meet fellow archaeologists working in other London units. A chance to meet up and chat in a convivial place.
• Expand your horizons – for anyone working in London archaeology, CIfA members and non-members.
Topics are designed to be of particular interest to archaeologists in the PCIfA and ACIfA grades looking to gain some wider knowledge about commercial archaeology in London. People of all levels are urged to attend and contribute to the discussion.
(The London Group is still actively seeking an 'accessible' venue. If anyone has any suggestions, please email groups [at] archaeologists.net - subject Accessible London venues)
Previous events
11 October 2018, Site Formation Processes: A Refresher. A CIfA London Group CPD event.

19 September 2018, Aspirations for London Archaeology. A CIfA London Group CPD event; followed by the group AGM

10 April 2018, Slipping through the cracks? Joined up thinking to protect non designated heritage assets, A joint seminar by IHBC and CIfA London branches
AGM minutes
Committee minutes
Three-year plan