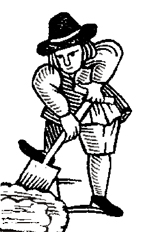 Feeling hot, hot, hot? Read our Guide to warm weather working and stay safe this summer.
Important information about your accredited membership and CSCS cards
Background
The Diggers' Forum (DF) is committed to creating a positive, sustainable and financially viable career for all professional archaeologists at all points in their career. The DF is a Special Interest Group of the Chartered Institute for Archaeologists representing all archaeologists working out on site at whatever grade. Membership of the DF is open to all.
The DF was formed in 2004 to represent the views, aspirations and professional requirements of its members, in addition to campaigning for improvements in pay and conditions within the profession. The views of those new to a career in archaeology, or who are employed at the lower rungs of the job, are under-represented in the industry. It is a key aim of the Diggers' Forum to redress this balance and keep the issues and welfare of its membership at the top of the CIfA agenda and publicised to the world beyond.
The Diggers' Forum will serve as a platform to provide up to date news and information to its members, as well as actively encouraging debate and involvement within the DF and CIfA on the developing roles required of field-staff now and in the decades to come. You can view our 2017-2020 three-year plan here to see what our short, medium and long term goals are.
Diggers' Forum statement on a minimum level of competence adopted as CIfA Policy has been adopted and incorporated into the CIfA policy on the use of training posts in archaeological projects. The statement sets out the minimum level of competence to be expected of a practising archaeologist as that required for Practitioner grade. Working archaeologists who have not yet achieved that level of competence should be part of a structured training programme to help them achieve PCIfA level competence within a defined time-frame. PCIfA level competence is defined as the competence required to 'undertake skilled tasks within the historic environment sector under the guidance of others, and carry out responsible work under a level of supervision' You can find more detailed information about the way CIfA defines and assesses competence here
Join us and make our voice that bit louder.
Latest edition of Diggers' Forum Dispatch
Join the Group
Membership of the Diggers' Forum is open to everyone and free to CIfA members. Non-members will need to pay an annual £10 fee.
Email: groups [at] archaeologists.net
Contact us
You can contact us via CIfA by emailing <groups [at] archaeologists.net> or at <diggers [at] archaeologists.net>. If you would like to talk to us in full confidence then see the newsletter for our individual email addresses.
Find us on Social Media
Facebook - https://www.facebook.com/groups/934376823319526/
Twitter - https://twitter.com/DiggersForum
Instagram - https://www.inst4gram.com/tag/diggersforum
Committee
Cat Gibbs (Chair)
Gemma Ward (Secretary)
Samantha Boyle (Treasurer)

Richard Bradley
Pete Lovett
Ben Saunders
Callum Allsop
Tudor Skinner
Martyn Cooper
Campaigns and activities
The Diggers Forum actively campaigns to improve pay and conditions for archaeologists: this work is done by both formal campaigns and by maintaining an active presence on CIfA Advisory Council, committees and working groups. By increasing our presence on Council we can make a positive impact on the profession by influencing votes on issues such as pay minima that directly affect our members. This relies on membership being engaged in CIfA and using their vote where it counts.

Archaeologists shortage: a response from Diggers' Forum
On 3 June Diggers' Forum published a response to a report by Historic England into the 'Shortage of trained archaeologists', wishing to contest the validity of the statement and explore the cause of perceived shortages. Since publication the statement has proved popular on social media. You can read the full text here

A commitment to training and professional development is a key requirement of the Registered Organisation Scheme. Both the winner and the runner up in this year's Archaeology Training Forum Award were Registered Organisations and the 'Training for competence in archaeology' session organised by the Diggers' Forum at Conference also highlighted good practice with some excellent case studies. We are always very keen to publicise good practice and to work with members and registered organisations to help develop skills development programmes.* Please contact kate.geary [at] archaeologists.net to discuss further.
Useful information
Forthcoming events
For information about upcoming events, please visit our event calendar.
Previous events
The 2019 AGM was held on Saturday 18 May at MOLA head offices, Eagle Wharf Road, London. Cat Gibbs became Chair, Ben Saunders was re-elected and Peter Lovett joined the committee.

The 2018 AGM was held on Friday 27 April at the CIfA Conference in Brighton. Martyn Cooper and Tudor Skinner were elected as ordinary committee members.

CIfA Conference 2016 session - THE SKILLS GAP: TRAINING FOR COMPETENCE IN ARCHAEOLOGY
Diggers Forum (DF) took forward the proposal (since agreed by CIfA) that the level of competence of every professional archaeologist shall be Practitioner or above: any archaeologist in the profession who is not working at PCIfA level competence must be working within a structured training programme provided by their employer to take them to at least PCIfA level competence. DF believes in increasing the value of the archaeologist across the profession. Employer, employee, organisation and volunteer must be equally invested in the value of training, skills and best practice. Higher demonstrable competency is beneficial to the profession as a whole. DF invites discussants from vocational, academic, commercial and voluntary sectors to consider the proposal and the implications for future training. The session began with papers from each sector summarising current training challenges, opportunities and some horizon scanning. The second part of the session comprised a series of training examples presented by DF who invited all archaeology practitioners and volunteers to training experiences to be included in our case studies – the good, the bad and the ugly. The abstracts for the presentations plus links to the videos on YouTube and be found here. The discussion which followed will allowed open debate on the policy's effects and how it could (or might not) be used to strengthen the profession.
AGM minutes
Committee minutes
Newsletters
The Forum Dispatch, the newsletter of the Diggers' Forum, forms a key medium for communicating within the Forum, and provides membership with a wide range of relevant news, articles and information on the activities of the Diggers' Forum and the profession. Past issues of the newsletter and other DF articles are archived on this page