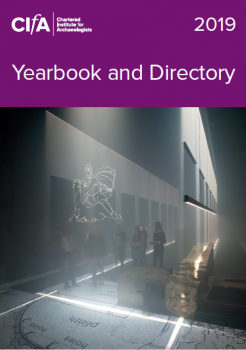 Every year we publish a Yearbook and directory which is an invaluable resource for the profession, listing details of all accredited CIfA members and Registered Organisations as well as comprehensive lists of local government archaeological and conservation contacts, Portable Antiquities Scheme contacts and other useful addresses.
Each year we focus on a different area of professional practice to bring stories from our Registered Organisations. Each CIfA member, Registered Organisation and Institutional Subscriber receives a copy of the yearbook free each year. Additional copies cost £15 for members and £30 for Non members from the CIfA office.
Most recent edition of the Yearbook
2017 Yearbook articles
2016 Yearbook articles
For earlier yearbooks, please email admin [at] archaeologists.net.
If you are interested in advertising in the yearbook please contact Gordon Sorensen (gordon@cathcomm.co.uk) at Cathedral Communications.